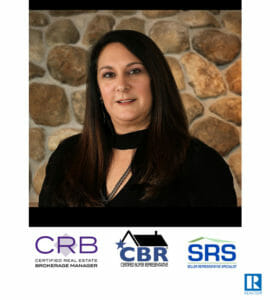 Ballston Spa, February 17, 2020 – Lisa M. Licata with Sterling Real Estate Group has been awarded the prestigious Certified Real Estate Brokerage Manager (CRB) designation, the premier brokerage management credential in the industry. Lisa joins an elite group of real estate professionals from around the world who have earned the CRB designation. There are 48 individuals in New York state with this designation and Lisa is the 3rd in the Capital District area. She is also a part of the Broker/Owner/Manager Council of GCAR, Greater Capital Association of REALTORS®.
The CRB title is conferred by the Real Estate Business Institute (REBI) and is an official designation of the National Association of REALTORS®. All recipients were required to complete a comprehensive program combining experience with management education and subscribe to the REALTOR® Code of Ethics.
Lisa M. Licata was hired as the Director of Sales & Marketing for Sterling Real Estate Group in February of 2019.  She adds the CRB designation to her title, in addition to her Certified Buyer Representative and Seller Representative Specialist designations.  Lisa continues to further her education in an ongoing effort to train and educate her team.
CRB is wholly owned by REBI and focuses specifically on real estate brokerage management. Formerly the Council of Real Estate Brokerage Managers (CRB), REBI is a not-for-profit affiliate of the National Association of REALTORS®. You may contact REBI by calling 800-621-8738, e-mailing [email protected], or visiting REBInstitute.com.
Join Our Team
we're looking for talented REALTORS® to join our office! As a CRB designee, Lisa is prepared to help showcase your skills using the latest marketing strategies and professional insight. Call for more info! 518.688.2211