Tips & Strategies on Homebuilding In the Pandemic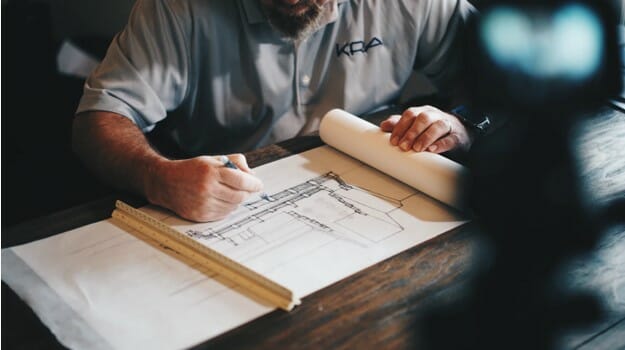 There's no feeling quite like designing your dream home and seeing it come to life before your eyes. When you decide to build a new construction home, you can hone in all the little details and add-ons: the reading nook by the window, the greenhouse off the kitchen, the bar in the basement. When you yearn for these special touches, buying a home without them just won't scratch that itch.
However, a pandemic was never part of the dream. If you're in the process of building a home, you might be unsure how to continue — or even if you should continue at all. Continuing COVID-19 restrictions and uncertainties, coupled with supply shortages, might put a pause on your building process at times, but don't have to halt them entirely. The industry is doing a lot to keep operations rolling while protecting workers and clients.
Reevaluating Budget
The first thing you can do safely at home is take some time to reevaluate your budget. This is a valuable step no matter where you are in the building process. Early on, it gives you the power to figure out your price point (the national average price sits at around $300,000), set savings goals, and keep your expectations reasonable. Changes made along the way are one of the most common causes of a final price way over the original estimate. If you know exactly what you can afford from the jump, and you base your home ideas on that price point, you're less likely to wind up increasing the price as you go.
Checking back in on your budget remains useful as your project continues. It's easy to get off track with your savings and spending goals in the best of times. In the midst of an ongoing pandemic, everyone's finances can get a little uncertain. Taking a moment to look at your spending critically gives you the chance to catch issues before they become big problems.
Virtual Consultations
If you're very early in the building process, you might be surprised to find relatively few obstacles in your path right now. Although consultations are traditionally done in person, they're also well-suited for an online meeting. You can connect with your builder virtually to discuss floor plans, timelines, construction estimates, and more.
Even when you're further along, there's a ton you can get done through a video call with your builder. A virtual face-to-face allows you to get a temperature check for how construction is progressing, as well as prevent some of the potential miscommunications that can happen via text.
A Safe Working Environment
Construction often requires people to work in close quarters, and at times, a shortage of N95 respirators meant that any project that kicked up silica dust and other particulates may have been put on hold. Protecting workers is vital in a time when livelihood and interpersonal safety are both at risk.
As a client, your timeline might stretch longer than originally estimated if distancing and equipment shortages cause delays. The builder may be able to keep the project rolling by focusing on parts of the home that workers can build safely in the current project. These adjustments may or may not impact your cost estimate: Always discuss the costs of moving forward vs delaying with your builder so you can make the best choice for everyone involved.
Even if this means your new dream home is a little further in the future than you'd originally imagined, try not to fret: The delays will be worth it. When you move into your new home, you won't feel caught up along the way. You can enter your home proud of the work that made it a reality.
Photo Credit: Unsplash