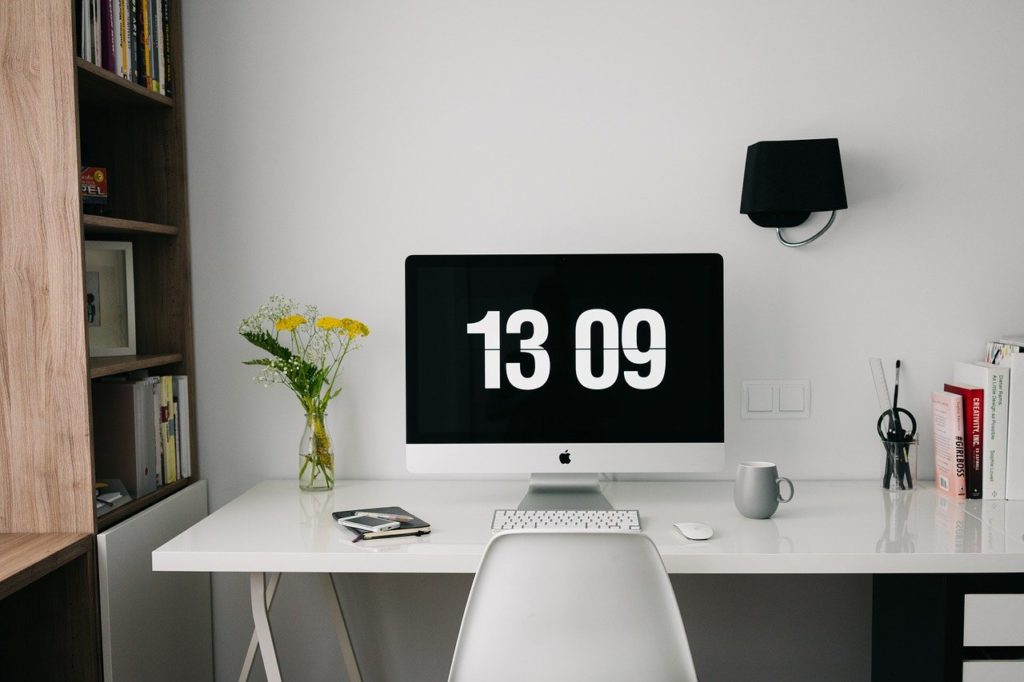 Working from home is something many of us have gotten used to since the pandemic changed the traditional office environment. Even though the percentage of home-based employees abruptly increased due to Covid-19, the trend had already been gaining in popularity. Whether you are working remotely by choice or by your employer's requirements, now is the ideal time to think about incorporating an office into your new or existing home. If you are looking for a new construction home in the Capital Region, or a quick-delivery home, you'll discover many of the communities we feature offer home offices in several of their floor plans. So, how much does a home office add to the value of your property? Let's find out!
How Coronavirus Shaped Our Opinions on Having a Home Office
Until March 2020, everyone was out and about doing business straight from the company headquarters. Now at least 50% of those people have switched from an office environment to a laptop and a dining table. Such working arrangements can prove practical for some time, but they certainly aren't suitable in the long run. At one point, enough is enough! Considering the uncertainty of the pandemic and the fact that using your table as a working station isn't the most comfortable of solutions, making adjustments has become a must for many.
Buyers already in the market for a new home have begun prioritizing properties that already include designated offices or spaces that could be used as offices. Those not in the market have started transforming the layouts of their existing homes to fit a fully functional workspace. And it's no wonder! Having a dedicated area for work makes it easier to transition from work-life to home-life, even if the commute is only a few steps away.
Do Dedicated Office Spaces Affect the Value of Your Property?
Yes! As we've already mentioned, there is an increased demand for homes with offices. If we look back, even before the pandemic, having a house equipped with one was considered an advantage in the real estate world.
Recent research suggests that adding a home office to your property can increase its worth by as much as 10%! With the national average home price standing at $400,000, we're potentially looking at $40,000 of added value. Not a bad investment, don't you think?
What Makes Home Offices So Appealing to Buyers?
New York's Capital Region is full of properties featuring secluded areas designed solely for the purpose of working from home. Let's see what exactly makes home offices so attractive to buyers even before they decide to move.
A personal office serves as a one-for-all place for your work essentials. Those include a computer, different supplies, paperwork, files, etc.
Having an area separated from the rest of the house can make it easier to concentrate on tasks at hand.
An office can also function as a study room for adults and children alike. Scholars can finish their work without having to worry about others disturbing their peace.
With an enclosed or private workspace, your household members will be less likely to interrupt important Zoom meetings or conference calls.
In some instances, adding an office space can increase the size of your home. It could be counted as an additional bedroom, thus, directly impacting the value of your property.
An often-overlooked advantage of having a home office is that, ultimately, it helps us deal with work equipment and documents cluttering the rest of our houses. We can incorporate desks, shelving, and cabinetry into our custom workspaces to store the items we use regularly.
How to Create an Office Space That Adds Value to Your Home
How much does a home office add to the value of your property? It depends on how you create it. There are three options to choose from, let's take a closer look at each of them.
1. Repurposing Existing Areas
Do you happen to have a spare room that can be converted into a dedicated work area? No? Well, then perhaps you've got an empty attic or a garage that can be repurposed instead? Whatever the case, transforming the existing parts of your home is the cheapest way to add a home office. The only things you'll potentially have to pay for are the furniture and other job-related essentials you deem necessary. Provided you don't already own them, of course. You could probably get away with spending less than $1,000 to get it all done.
While your property will undoubtedly gain value by repurposing other rooms into a home office, it's unclear just how significant the change will be. Typically, garage conversions are the ones that bring the least profit, with attic conversions being those with the highest return on investment.
2. Building An Addition
Extending your home outside its current boundaries to add an office is the most expensive and the most complicated option. Depending on regional regulations, there's a chance you'll need to contact the local government and submit a request for approval before construction can take place. Still, if you have the patience and finances necessary to fund the project, building an addition can, in the end, prove most profitable of all.
3. Making Use of a Garden Dwelling
If the land your property is on happens to include a barn or a shed, you may very well be able to use it as a workspace. This would be a reasonably inexpensive conversion as long as it was already set up with electricity and heat. However, if you don't own a garden dwelling, purchasing a pre-built one is also an option. Of course, bear in mind that these can range from fairly affordable to overly expensive. With that said, if spending the least amount of money possible is the goal, make sure to research your choices before buying.
Regardless of what home office option you end up going with, you can expect a return on your investment when you do decide to sell. And once you've listed your property, don't expect it to stay on the market for long!
With more and more people working from the comfort of their homes and needing a dedicated space for doing business, homes with built-in offices are highly sought after. So, how much does a home office add to the value of your property? Potentially, a lot.
Have questions about the value of your specific property before or after adding a home office? Contact one of our experienced real estate agents today!