Buying your first home is a momentous event. It can also be very challenging. There's an exhaustive list of requirements and the nagging possibility of making a costly mistake. 
While you will always need to do your own due diligence, it's best to get a high-level view of some essential, actionable steps everyone should take when purchasing a home, before, after, and during the buying process.
1.  Decide on a Budget
Contrary to popular belief, your home budget should not be reliant on your borrowing power from your mortgage provider. The budget needs to factor in the house price as well as many other expenses to prevent financial difficulty in the long run.
A rule of thumb is to allow your mortgage payment to be around 25-30% of your monthly income. Your mortgage provider will also look at your debt-to-income ratio to determine if they are willing to lend you money or not.
If you have a high debt-to-income ratio it may mean you are more likely to default on a payment.
You must also factor in the other home-owning expenses. These include property tax, maintenance, and repair costs, and home insurance. These can sometimes double the monthly payment you anticipated.
You should choose a property for which you can pay at least a 20% down payment. This reduces the interest you pay on the mortgage while lessening your repayments.
Closing costs can also amount to around 2% of the price of the house. This is dependent on the state that you live in. After allocating for all of the expenses above, you can work out how much you can afford each month and set the entire budget from there.
2.  Define the Home you Want
After allocating a budget, your available options (such as home size) can be narrowed down. You can choose the amount of square footage that suits your needs. If you have a family, your needs will differ from people who only live with a partner or alone.
You can consider a single-family house, a duplex, a condo, and even a multi-family building. The requirements and features are dependent on what is most important to you in a home. At this stage, you should be viewing online listings in the Capital Region neighborhoods you'd like to live in.
Consider livability as well as maintenance when making your choice. Larger houses will need additional heating and ventilation costs. Properties on a steep gradient may also need more yard/outdoor maintenance, particularly during the winter. You'll thank yourself later on for making these small considerations now.
3.  Select a Suitable Estate Agent
You can keep the process a little less stressful by employing a professional. A qualified real estate agent will find great listings that meet your requirements. Agents will personally view homes with you and inform you about the details of the house and neighborhood.
An experienced agent can help you with paperwork and speak to sellers for you. They will help with price negotiations and making offers as well as home loan applications. The best estate agents can also help you to avoid common problems experienced by first-time buyers.
Select an agent that is transparent and friendly. Someone that responds to written and verbal communication promptly is a good choice. Additionally, no matter how trustworthy someone may come across, always validate the professional license of your agent. This can be done online using the estate agent's practicing license number. There are specific state websites that use a search engine to validate their credentials. If you cannot obtain a license number you can use other credentials like company addresses and names.
The main reason you should validate the professional license of your agent is to avoid any fraudulent activity. Estate agents are also licensed in a specific state. Agents should not be conducting business in a state in which they are not licensed.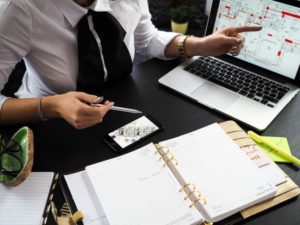 4.  View the Property/Hire an Inspector
Viewing the property is sometimes the most exciting part. It is also important to find out if the house 'feels' right to you. Don't disregard the emotional attachment you may feel for a property as it is an important aspect.
Importantly, things like plumbing, electrical outlets, and the all-around structural integrity of the house need to be inspected. This is where the help of a professional home inspector can be employed.
A home inspector will check the property against certain criteria and compile a full report. Just like you would validate the professional license of your agent, do the same for the home inspector.
A thorough inspection can help you avoid purchasing a house that appears beautiful but has some deeper issues. Properties that have experienced extreme water damage or have foundation issues may incur massive costs later on. You also have the option of asking the seller to cover the repair costs or reduce their asking price.
5.  Learn about the Neighborhood
We've all heard the saying: Location, location, location. While the property itself is your main concern, the surroundings are extremely important. Ask locals about the major pros and cons of the area.
Check out the local amenities and schooling district if necessary. Read online suburb reviews for more insight.
Make sure that the area is conducive to your lifestyle. Aspects like traffic and public transport might be important if you have to travel for work. If leisure and entertainment are vital, check out the social scene.
In the most ideal case, you'd be able to book a short stay in the suburb to test out how well your needs and wants are met.
6.  Learn to Negotiate
While your real estate agent may do the heavy lifting, you should still be prepared to make some negotiations. You are allowed to be as relaxed or as firm with your budget and requirements as you please. Don't miss out on opportunities because you think what you're asking for is unreasonable.
Depending on the situation the buyer can negotiate with the seller to cover some additional costs. These include closing costs, repair costs, and even a homeowner warranty. There are also specific ways to negotiate down the entire cost of the house.
You can ask for a lower price based on the state of the neighborhood, the condition of the house, the price of comparable houses, or even the result of an appraisal. The previously mentioned list should back up your argument that the seller is asking for more than what the house is worth.
7.  Secure Financing
Obtaining financing is not always straightforward. You will need to gain pre-approval before you can apply for a home loan. This will determine if you even qualify for a loan in the first place, and the amount of money you can expect to get.
First-time home buyers will have several financing options available to them. There are some homebuyer programs that will allow you to pay a small percentage (2-5%) as a down payment. This will usually require you to also pay for private mortgage insurance. 
The mortgage provider you choose will then check your credit score and monthly income. They will verify your place of employment and various other details. It's best not to make any large purchases during this process as it may alter your credit rating. The mortgage can cover many of the additional expenses.
Some of these include moving costs, appraisal of the house and title searches. Make sure you have all of your paperwork in order. Insufficient paperwork can delay your loan approval or even cause it to fail. Your lender will request specific documentation from you if you are unaware of what to provide.
After the buying process has taken place, keep hard and soft copies of all of the paperwork that was involved. These include any contracts or legally binding paperwork. Keep them in a safe, physical location – as well as on a secure PC.
8.  Get Homeowners Insurance
Homeowners insurance can give you greater peace of mind. You can cover the property as well as the interior assets of the house. Some of the bigger incidents that are covered can be natural disasters or damage due to a fire. Some of the more commonly occurring issues are often expensive water damage and electrical or plumbing problems.
The insurance policy you choose will have a liability limit. This will determine how much you are insured for. It can vary depending on your preferences. Remember that there will still be deductible amounts that you will have to pay out of pocket on any claim you make.
Final Word
The whole process might seem intimidating, but that isn't necessarily a bad thing. Having a healthy respect for the home buying process can help you avoid pitfalls. It is far better to be patient and overly prepared than to dive right into the deep end.
Make use of the professional services available to you as well as the free online resources. Also, remember that acquiring real estate is never effortless. However, It can be a gratifying exercise if you are prepared to learn a lot and make some small mistakes along the way.