Sterling Real Estate Group has been a leader in the industry when it comes to new construction homes in the Saratoga region. But did you know that we also specialize in modular homes? What's the difference between a new construction home, a modular home, and a mobile home?
We chatted with Licensed Real Estate Salesperson Abigail Sisson to find out the answers to commonly asked questions about modular homes, and why those looking to buy a house might consider this route of home ownership.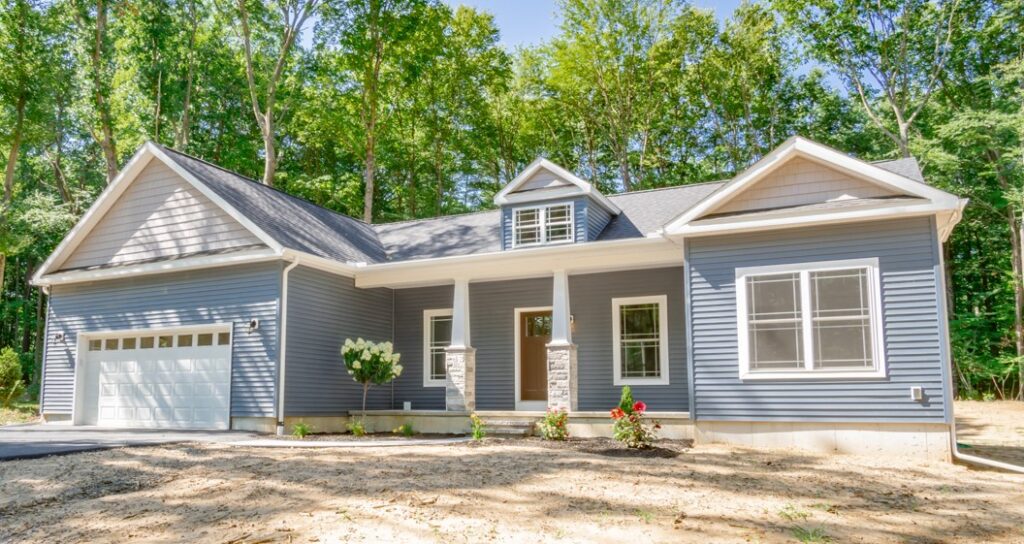 What Is a Modular Home?
Modular homes are new homes that are constructed in sections off site, to later be transported to the property, where they're assembled by the builders. They're not mobile. They're similar to new construction homes in that the buyer is getting a brand new home, but at a lower price tag.
Modular homes are sometimes associated with mobile homes, and there can be a misconception that they aren't built to the same standards as other "stick-built" homes, but this is not the case.
"These homes are constructed in climate-controlled environments, systematically built with the highest degree of inspections," Sisson explained. Furthermore, "Building codes have changed dramatically, so buyers can expect the highest quality home with the rigorous inspection schedule that modulars go through."
Modular homes appreciate in value over time, just as more traditionally constructed homes do, and you own the land it goes on, as you would with any other home.
What Are Some of the Advantages to Modular Homes?
Compared to buying a pre-existing home on the market, with modular homes you get more design flexibility when it comes to the floor plan and interior finishes.
"Not only will the homebuyers benefit from the ability to personalize their homes, they'll also have the peace of mind that comes with builder warranties," Sisson said.
"Additionally, there's room to build equity with some of the plans. Depending on the model, there are options to leave second stories unfinished during the initial build, to be finished by the homeowner down the line when that space is needed. This is a popular route for our clients!"
Moreover, modular homes can be more energy efficient than those assembled on the premises. They're constructed in a climate-controlled environment, and then need to be transported to the property, so they're built with ultra-tight seams. This can result in lower energy costs for the homeowner.
How Long Does It Take to Build a Modular Home?
Because the home is being built indoors, the process is not subject to weather-related delays the way traditional construction would be. While a house constructed on site could take nine months or more, a modular home may only take a few months to build.
That being said, the timeframe for modular homes can vary, according to Sisson. "Much of the timeframe is dependent upon land development, design and selections, and how a buyer moves through this process," she said.
"From the time a contract is received to the time the home is delivered can be about 90 days. One of the advantages that comes with building a modular home is that site prep is happening at the same time the home is being constructed. These two processes happening simultaneously allows the timespan of the whole project to be significantly reduced when compared to a traditional on-site build."
How Does the Payment Process Work?
Sisson finds that construction loans are often the most popular financing route with modular homes. With draw loans, the loans are paid out over the course of the project in installments, rather than all at once. As with the other aspects of home buying, your skilled real estate agent will help guide you to the right financing plan.
Do note, you'll need to own or buy the land that the modular home is going on, which will need to be on land that is properly zoned for residential homes.
What Else Should Potential Buyers Know?
Sisson breaks down for us what else homebuyers need to know about modular homes:
"With modular, you can expect to build the home that you can then personalize, instead of accepting someone else's design choices, and spending time and money to fix it to your liking."
Because of the aforementioned strict building codes, you can also avoid worrying about "what may come from the previous seller's creative 'solutions' over the years that may not be visible to the naked eye in a resale home."
Sisson also points out that there are no worries when it comes to competing with multiple offers from other buyers.
If you'd like to learn more about why building a modular home might be a desirable route for you instead of settling on a pre-existing home, you can find Sisson's contact information along with Katharine K. Pelletier and Christa Swistak, two other agents who deal in modular homes, on the Sterling Real Estate team page.